Time to Get Ready for Field Day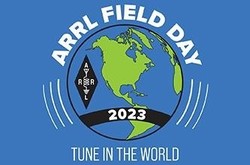 ARRL Field Day is just over two months away, but like spring cleaning, it pays to start getting ready now.
2023 Field Day will be held June 24 - 25. It is ham radio's open house. Every June, hams throughout North America set up temporary transmitting stations in public places to demonstrate ham radio's science, skill and service to communities and the nation. It combines public service, emergency preparedness, community outreach, and technical skills all in a single event. Some participants may also choose to operate from home, using the exercise to develop and practice their personal radio communications capability.
Field Day has been an annual event since 1933 and remains the most popular event in ham radio.
In 2022, 4,929 entries were submitted (including check logs), and there was a total of 29,679 reported participants.
Field Day is open to all amateurs in the areas covered by the ARRL/RAC Field Organizations and countries within IARU Region 2. DX stations residing in other regions may be contacted for credit and may submit entries as check logs.

The main focus of Field Day is to work as many stations as possible on the 160-, 80-, 40-, 20-, 15-, and 10-meter HF bands, all bands on 50 MHz and above, and to learn to operate in abnormal situations in less-than-optimal conditions. A premium is placed on developing skills to meet the challenges of emergency preparedness and acquaint the general public with the capabilities of amateur radio.
For Field Day 2023, several rules changes have been made. It's a good idea to make sure that your logging software has been updated to the most current version to incorporate these rule changes including the updated Canadian sections list. There are many facets to operating on Field Day and knowing the rules and keeping good logs are paramount to successful contacts.
Many local amateur radio clubs participate in ARRL Field Day. To start preparing for Field Day, check out arrl.org/field-day for the official rules and all the information you'll need. To find a participating radio club in your area, use the Field Day Locator on the page.