Current Events
Next Session June 17th and July 8th 9:00AM
American Legion Post 119
4561 Greenstone Rd.
Placerville, CA 95667
Fees $14
Contact Ken, W6KWV 530-642-9523
In person meeting
Tuesday, June 20th at 7:00PM
El Dorado County Sheriff's Office
200 Industrial Drive Placerville, CA 95667
ARRL Field Day 2023 is June 24 and 25.
We have a change in location so check the website for details.
Another full house for the May 2023 meeting.
Kirby AF6OP, was our 220 "Use it or Loose it Net winner"
For our presentations John KM6AIX, talked about his experiences in 3D printing. Jermey W6TKD, showed us his Xtera battery charger project. Dave K6TQ, gave us a report on the 2023 Visalia International DX convention. Michael K6MLE, showed us his system to receive ADS B Flight data. Reese AJ6YA gave us a demo of the Sherrif's new VoIP radio system.
Despite the rainy weather, we had a good turn out on Saturday the 6th for the antenna build. Jordan, WC6J led us through the process of building the antenna for the 2 meter band. Each of us made the cuts and soldered the connections on the 450 ohm window line. Once we were finished, we tested out the antennas with a MFJ analyzer. Everyone had a good time and got their antennas built. It was a fun project for a Saturday morning.
Hope everyone enjoyed the April meeting. The weather was nice for a change and no raincoats or snow shovels required. We had a short discussion of club business and welcomed our new member Jim, KM6TLY to the club. Roger, W6WHU asked for assistance with finding a new Field Day site because the current site will be unavailable and the past site may still be covered in snow. If anyone has a good idea for a location please contact Roger.
Our show and tell started off with Justin, KB2ZVD showing his new antenna launcher. He can pressurize it to 120psi to launch a landscaping throw bag a few hundred feet. He says it has a loud boom when fired.
Bob, W1RH brought a mystery object to show. He passed it around the room to see if anyone could identify it.
He revealed that it was a mechanical reed a method of generating the original PL tones for repeaters. One reed was required for both encode and decode and for each tone.
Bob, also gave the main presentation for the meeting. He gave us a virtual tour of the VOA Museum in Ohio. The exhibits included amplifiers and their tubes, original station control equipment and replicas of station antennas. There was also a section with vintage receivers and transmitters. The museum is not far from the annual Hamvention and is worth a visit.
Time to Get Ready for Field Day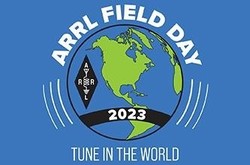 ARRL Field Day is just over two months away, but like spring cleaning, it pays to start getting ready now.
2023 Field Day will be held June 24 - 25. It is ham radio's open house. Every June, hams throughout North America set up temporary transmitting stations in public places to demonstrate ham radio's science, skill and service to communities and the nation. It combines public service, emergency preparedness, community outreach, and technical skills all in a single event. Some participants may also choose to operate from home, using the exercise to develop and practice their personal radio communications capability.
Field Day has been an annual event since 1933 and remains the most popular event in ham radio.
In 2022, 4,929 entries were submitted (including check logs), and there was a total of 29,679 reported participants.
Field Day is open to all amateurs in the areas covered by the ARRL/RAC Field Organizations and countries within IARU Region 2. DX stations residing in other regions may be contacted for credit and may submit entries as check logs.

The main focus of Field Day is to work as many stations as possible on the 160-, 80-, 40-, 20-, 15-, and 10-meter HF bands, all bands on 50 MHz and above, and to learn to operate in abnormal situations in less-than-optimal conditions. A premium is placed on developing skills to meet the challenges of emergency preparedness and acquaint the general public with the capabilities of amateur radio.
For Field Day 2023, several rules changes have been made. It's a good idea to make sure that your logging software has been updated to the most current version to incorporate these rule changes including the updated Canadian sections list. There are many facets to operating on Field Day and knowing the rules and keeping good logs are paramount to successful contacts.
Many local amateur radio clubs participate in ARRL Field Day. To start preparing for Field Day, check out arrl.org/field-day for the official rules and all the information you'll need. To find a participating radio club in your area, use the Field Day Locator on the page.